LAST HD POSTINGS:
12/12/2018 09:30 PM
Amber Chase comes to 40SomethingMag.com
"I'm responsibly free-spirited," said Amber Chase, a 43-year-old wife and mom from Hawaii who's making her 40SomethingMag.com debut by fucking 24-year-old Evan.

"I have been modeling from art to adult for a while. In 2003, I modeled for a giant photograph that was like nine-feet tall."

Amber is a work of art. She's beautiful and has a tight, sexy body with big, firm tits, a tiny waist and a nice, firm ass. This woman is the definition of the word MILF. And she loves sex.

Amber says her sexual fantasies "always start with my pussy getting licked." She likes getting fucked by "a man who can deliver, who can read my body language." Amber's body language is something we'd love to study.

"I've tried a lot of things, like sex in strange places. I love to be watched while having sex. I love it so much!" She loves men and women.

Amber was born in the Pacific Northwest United States. She's 5'4" and weighs 126 pounds. She describes her perfect day as "a morning fuck at sunrise, coffee, a shower with a view of the ocean and the power to decide what to do next."

We're gonna bet it involves sex.



LAST HD POSTINGS:
12/06/2018 09:30 PM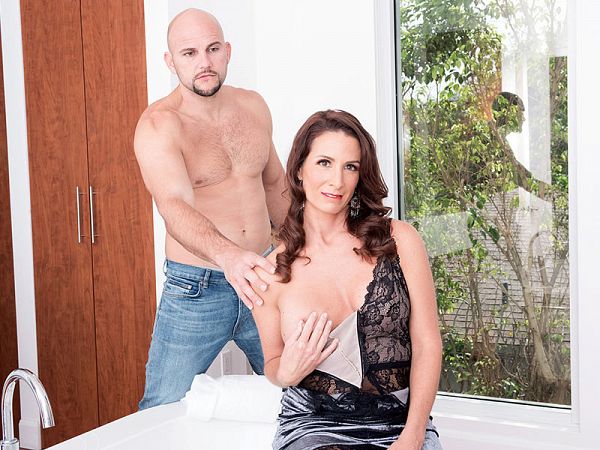 When this scene opens, 40-year-old wife and mom Eliza Kelay is standing on her veranda. She sees JMac working on her patio, shirtless, and invites him up.

"Me?" he says.

She nods. It doesn't take much convincing, not when a woman is as sexy as Eliza.

While waiting for him, she strips naked, showing off her nice, firm tits, and by the time JMac gets upstairs, Eliza is soaking in the bathtub, washing off her body. She asks him to help her wash off. Get clean. But what she really wants to do is get dirty, and that happens quickly enough.

By the way, this scene includes JMac's famous lockdown position, in which he locks the girl's legs behind her head while she's riding his cock reverse-cowgirl. JMac also eats Eliza's pussy, licking her big clit, because we know a lot of you love seeing that. JMac loved doing it.

When this scene starts, Eliza is wearing sexy lingerie. But in real life, "I dress conservatively. Normal. The yoga look."

Her hobbies: "There are a lot of breweries in Ohio, but I don't go to those. I'm not a big drinker. Running, kayaking, painting furniture. I like that. I re-sell furniture. I like to go dumpster diving, find treasures, take them home, fix them up and re-sell them."

Porn star. Based on her three scenes at 40SomethingMag.com, we think that should be her new hobby.
LAST HD POSTINGS:
12/05/2018 09:30 PM
"Oh my god, people would be shocked to see me here. I'm a quiet housewife," said Eliza Kelay, a 40-year-old wife and mom from Ohio. Here, she's getting fucked every which way by big-dicked JMac. That's not something quiet housewives from Ohio usually do.

But, you know, quiet housewives are often the ones with the most surprises. Eliza also describes herself as conservative, and she can come across as shy at first. But give her a cock and her true colors will show.

Eliza got married just three years ago and has five step-children. She's not a swinger or nudist, but she's had a few threesomes, of which she said, "I orgasmed until I had a seizure."

One of the most interesting facts about Eliza is that she used to be a math teacher. Somehow, we have a feeling her students didn't learn much. Not because Eliza lacks teaching skills but because her students were probably paying more attention to her hot body and nice tits. At the very least, they learned how to appreciate a foxy older woman.

We wonder if any of her former students are out there, looking at these photos and Eliza's first two fucks at 40SomethingMag.com. Eliza hopes they are.

LAST HD POSTINGS:
11/29/2018 09:30 PM
Lilly James and the big-dicked nerd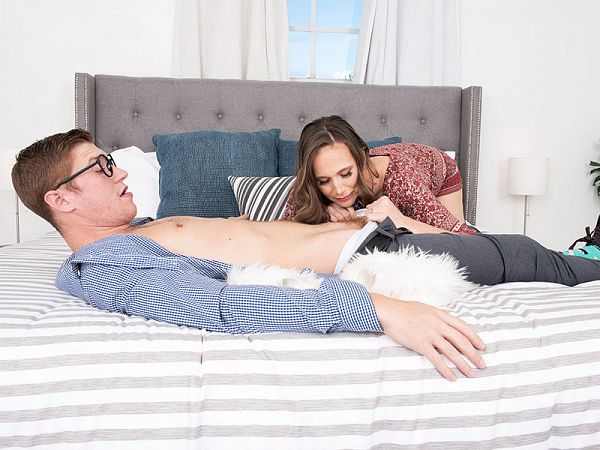 Oliver, a 25-year-old super-nerd with glasses that have white tape holding them together, is working on Lilly James' computer. He thinks he has her problem solved when he sees an icon that says FOR HUBBY. When he clicks on it--something he really wasn't supposed to do--he sees photos of Mrs. James wearing a tight, sexy dress, big tits popping out.

"Oh my god, it's Mrs. James," he says out loud. "She's so hot!"

That she is. And when Lilly walks in on him, she says, "I see you found the pics for my husband. Do you like them?"

"I do," he says.

"Do you find them sexy?" she asks.

"I sure do," the big nerd replies.

Well, obviously, Lilly finds him sexy, too, because she gags on his cock and rides it hard. Turns out Mr. Nerd isn't a bad fuck at all. He lasts a good long time and fucks Lilly in a wide variety of positions before shooting his load all over her big tits.

Lilly is 46. She was born in Michigan and lives in Houston, Texas. She has one kid, who's out of the house. That gives her the freedom to be a swinger and a nudist. And to do this.

Lilly told us she was nervous about fucking on-camera for the first time. It sure isn't obvious.
LAST HD POSTINGS:
11/28/2018 09:30 PM
From conservative mom to first-time porno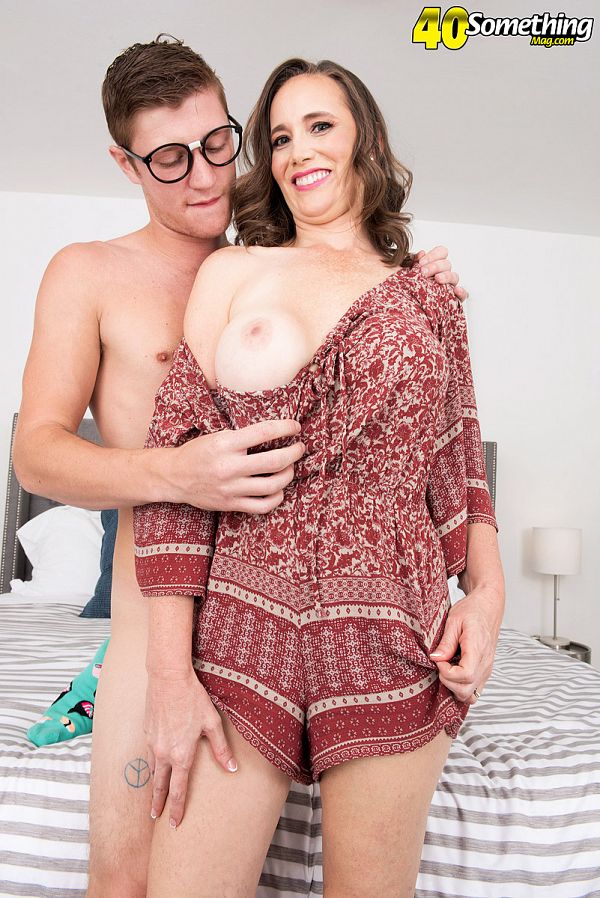 In her first-ever hardcore scene, 46-year-old wife and mom Lilly James sucks and fucks a 25-year-old nerd. Hey, nerds have hard-ons, too, and Lilly, a super-sexy woman with blue eyes, a tight body, long legs and big, firm tits, has an eye for them.

"My husband and I once went to a bar to meet a younger man," Lilly told us. "We talked to him for a little while, and then we brought him home to fuck me."

Her husband watched, of course.

"I like to be watched," Lilly said. "It turns me on."

Lilly was born in Michigan and lives in Houston, Texas. She works as a clinical medical laboratory scientist, and she says the people at work would be shocked to see her here, doing this.

"I'm very quiet," she said. "I'm very conservative. They'd be very, very surprised."

But there are two sides to Lilly: the conservative side she usually puts forward when she's in public and the swinger side. She and her husband have been married for 25 years. They've been together since she was 19. An early swinging experience was the first time she'd had sex with another man since they'd met.

"It was a little strange," she said, "but I quickly got over it."

And kept on doing it. Just like she's doing here.


LAST HD POSTINGS:
11/22/2018 09:30 PM
Dakota fucks her son's best friend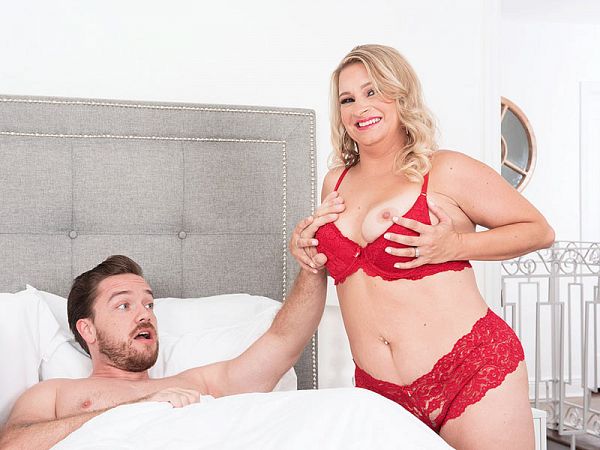 Dakota Madisin, 42, knows that her son's best friend stayed over last night, so, wearing nothing more than a bra and panties, she walks into the room where he's fast asleep. She watches him. It's clear that he's having a sex dream. She can tell by the hard-on poking through the sheets. So she touches herself, rubbing her tits and pussy, then, unable to resist, walks over to the bed and strokes his cock through the sheets. That wakes him up!

"Mrs. Madisin? What are you doing?"

Silly boy. Very clearly, she's stroking his cock.

"It's okay," Dakota says. "No one's home."

"What about your husband?" he asks.

"He's out of town. Everybody's gone." She looks down at his hard cock and says, "You were having a nice dream. I won't tell if you won't tell."

Dakota is too sexy to resist, and her son's friend quickly gives in.

Dakota is a wife, mother and grandmother from Ohio, and this is her second fuck at 40SomethingMag.com, her second on-camera fuck ever. She's a lusty blonde with a brickhouse body. But this isn't Dakota's first time having sex with a much-younger man.

"It happened just recently," she said. "He was 24, and I had been cutting his hair since he was 15. He confessed to me that for years he thought I was hot, so a few days later, I called him up and asked him if he wanted to come fuck me. He took me up on it, we had fun and I fulfilled his fantasy."

Having sex on-camera was one of Dakota's fantasy, and now she's fulfilling it. We're lucky to have her.
LAST HD POSTINGS:
11/21/2018 09:30 PM
Dakota Madisin, a 42-year-old wife, mother and grandmother from Ohio, wakes up her son's best friend by stroking his cock through the sheets. He stayed over last night, her son and husband are gone, so she figures, "Why not have some fun?" Besides, she's had her eyes on him for a while.

Well, he wakes up and tries to resist--she's his best friend's mom, for goodness sake--but he really doesn't want to resist, and before long, his cock is deep down Dakota's throat and in her pussy.

"I was a hairstylist for 16 years, so I'm a people person," Dakota said. "I loved doing hair. It makes me feel good to help others feel better about themselves."

She and her husband have dabbled in the swinging lifestyle. She's into a little light biting and some hair-pulling.

"But that's the extent of it for me," she said. "Nothing else."

Other than having sex on-camera, that is. Dakota is doing it here for the second time after doing it for us for the first time.

We asked her what satisfies her sexually, and she said, "Knowing I have made someone orgasm."

Well, in this scene, she makes her guy cum. And we're gonna bet that before long, she's gonna have you cumming, too.
LAST HD POSTINGS:
11/15/2018 09:30 PM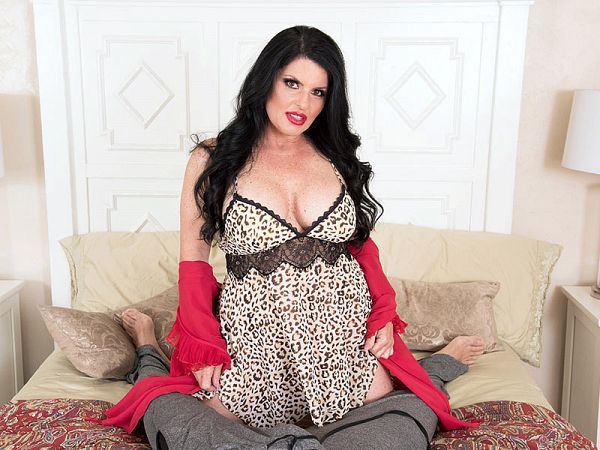 When 48-year-old Ivy Ices walks into her bedroom, she catches her step-son lying in her bed and jacking off. At first, she's a little bit put off by this, but then she notices something.

"Why are you jerking off so fast?" she says. "Do you know what you're doing? Do you know how to jerk off?"

Ivy decides to show him. Never mind that the dude is her step-son. Besides, she has certain skills, so she might as well pass them along.

But she does more than jack his cock. She tit-fucks and sucks his cock. Then she rides his cock, and most of this happens P.O.V.-style, so you're the man. Meaning Ivy is jacking and sucking and tit-fucking and fucking your cock. And you're cumming all over her pretty face.

"When I have sex, I get so turned on that my pussy gets very, very wet," said Ivy, who called herself Jade Steele when she made her porn debut at 40SomethingMag.com in 2014. "The cock just slips in and out of me so easily because I'm all lubed up. It's the best feeling when you're soaked. That's how you know the sex is good."

Ivy's blow jobs are also very good.

"I know how to wrap my lips around the cock so it gets the full plushness of my lips without messing up my lipstick. It takes practice!"

Ivy hasn't had a lot of practice lately. She'd been celibate for about a year before she came to our studio. And then she came and came and came!
LAST HD POSTINGS:
11/14/2018 09:30 PM
Ivy sucks and fucks, and you're the man!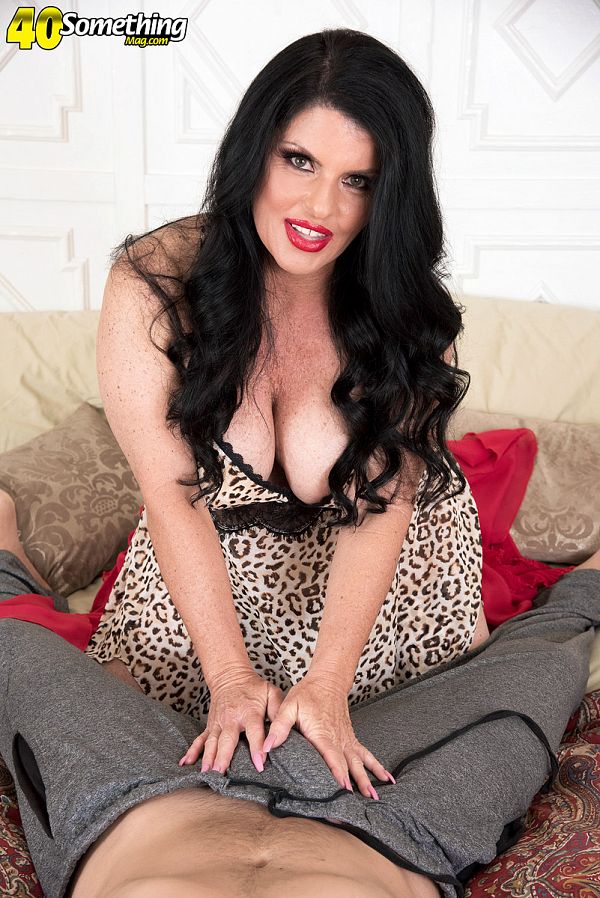 "I like to be kinky," 48-year-old mom Ivy Ices said.

For example...

"I once used a strap-on to fuck a guy. We had been friends, and we hooked up one night and it happened. He enjoyed it. He came while I was fucking him."

She's had kinky sex with a woman.

"My partner and I picked up a girl, so we were drinking wine and I just happened to fuck her with the wine bottle. She really got off on that."

You'll get off on Ivy, a dark-haired, big-titted, voluptuous beauty who, in this scene, jacks and sucks a guy's cock and then fucks him, mostly P.O.V.-style. That means you're the man.

Ivy had been practicing celibacy before she came to our studio. We put an end to that.

"I like the dom stuff," she said. "More me telling him what to do. For example, he's been at work all day being the Alpha male. When he comes home, he can be my slave. Get on his knees and lick my pussy. Probably torture him with some masturbation. Cook dinner. Have him do everything. Have him serve me."

That doesn't sound like torture to us.
LAST HD POSTINGS:
11/08/2018 09:30 PM
JMac gives 44-year-old Gypsy Vixen everything he's got and Gypsy gives it right back in her second video fuck at 40SomethingMag.com.

She sucks his rock-hard cock, getting it as far down her throat as she can, and feasts on his balls. Then he pounds her tight pussy before turning his attention to her asshole, which, she says, hasn't had any in a while. But, like we said, Gypsy takes every inch, including in the lockdown position and then with her legs totally spread. We get great views of her ultra-pink pussy as JMac is pounding her ass. She has an analgasm. No surprise there. And then JMac cums in her asshole.

Gypsy, who's a divorced mother of three, could be a star. She has the porn star moves and she loves to fuck. Talk about a red-hot Latina...she's all that and more.

"When I'm in the mood, I'll watch some porn, get my vibrator out and masturbate until I have at least two orgasms," Gypsy said.

She has a lot more than two orgasms in this scene. But, of course, she wasn't keeping track.

"I like intercourse and oral," she said. "I'm curious about being a submissive."

Gypsy was born in New York City and lives in Texas. She measures a delectable 34-26-36. She puts it all to good use.
LAST HD POSTINGS:
11/07/2018 09:30 PM
Hot Latina mom gets ass-fucked by JMac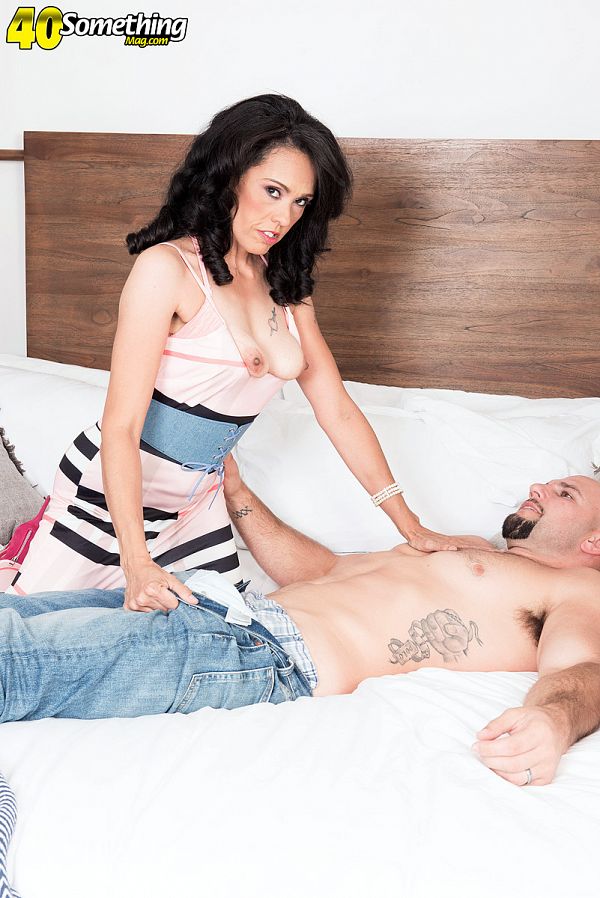 In her second scene at 40SomethingMag.com, 44-year-old Latin divorcee and mother of three Gypsy Vixen gets ass-fucked by JMac's huge cock. She also sucks his cock and tries as hard as she can to get her mouth around his tool. JMac fucks her in every conceivable anal position then cums in her asshole.

Gypsy is from Texas. She enjoys playing tennis and watching college basketball.

"I just got back into health and fitness. Working out," she said. "I'm also into spiritual growth and self-help. My perfect day would be a sunny day. Not too hot. Just getting in my car, putting on some nice music and driving to no particular destination, and if something catches my eye, like a clothing store or historical landmark or even nature, just enjoy it."

Gypsy calls herself "adventurous by nature," which explains how she ended up here. She said being discovered by us "was a great feeling."

We're glad we found her. She's sexy and scorchingly hot.

She's not a swinger. She says she "feels like I'm evolving into a nudist."

From the looks of things, she's definitely evolving into a porn star.
LAST HD POSTINGS:
11/01/2018 09:30 PM
From conservative mom to 40Something MILF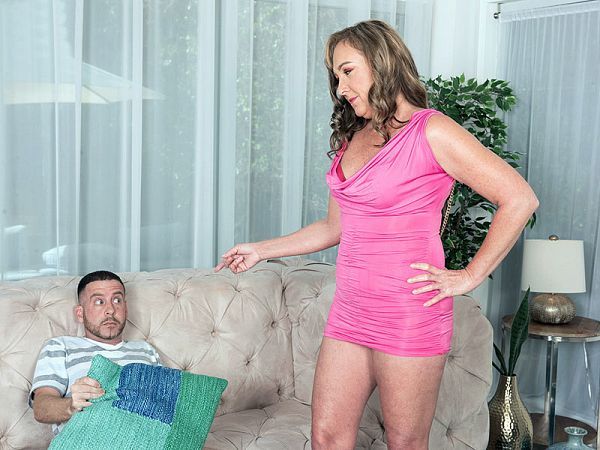 First-timer Jessie Reines told us, "I dress very conservatively."

But when this video, opens, she's wearing a very tight, very short dress that barely covers her pussy. Of course, Jessie isn't dressed to go out in public. She's not dressed to go shopping or take her kids to school. She's dressed to get fucked on-camera by a porn stud.

She does it well. This 49-year-old wife, mother and grandmother from Nashville, Tennessee, really gets into sucking Tony's cock. She gets her tight pussy fucked every which way. And then she opens her mouth for his squirts of cum.

"I was a little surprised when I found out you wanted me," she said. "I didn't realize there was a market for old ladies."

In the interview that opens this video, Mrs. Reines tells us she used to be head of the PTA. She was married for 23 years and now she's married again to a guy who was sitting just a few feet away while his wife was fucking. That's not unusual for them. He was also part of his wife's 14-man gangbang.

"It's called freedom," Jessie said. "Just living your life for yourself. I just decided to live my life for me and do what I wanted to do."

Mr. and Mrs. Reines are swingers.

"We grew up together, and I was the best man at his wedding when he got married at 18, and then he got married and moved away and I got married and it just so happened that he was divorced and we re-connected," she said. "But I didn't want to be in a relationship. I wanted to explore and experience things. I never did one-night stands and pickups and I wanted to explore more sexually. And then I found out he was a swinger, but he didn't think I would be interested because I was always the goody two-shoes girl."

Not anymore.

Jessie is 5'6" and weighs 138 pounds. Her favorite movie is Groundhog Day. She likes football and roots for the Tennessee Titans and the Dallas Cowboys. She enjoys gardening, cooking and sewing. And masturbating. She does it a lot.

"I have several different toys," she said.

Her kinkiest sexual experience (other than the 14-man gangbang): "My arms were tied behind my back at a hotel and several guys used me."

And that's what exploring is all about in the world of Jessie Reines.

LAST HD POSTINGS:
10/31/2018 09:30 PM
Jessie Reines, a 49-year-old wife, mother and grandmother from Nashville, Tennessee, makes her worldwide debut by sucking and fucking Tony's big cock. She really gets into sucking his balls, too. He really gets into cumming all over her pretty face.

But get this...

"I dress very conservatively," Jessie said. "I was head of the PTA. Homeroom mom. Head of the school fairs and all that sort of stuff. I'm very much family-oriented."

Now, she and her husband are swingers. She once got gangbanged by 14 men in Destin, Florida, which is in the panhandle. She handled those guys well.

"Usually if we invite eight guys, maybe four will show up," Jessie explained. "That time, we invited 14 and all 14 showed up. It was a wild night and a lot of fun. Someone would be playing with my tits while I would be sucking someone off and jerking someone off. Someone was fucking me. A lot of fun."

A lot of cum.

Jessie discovered 40SomethingMag.com when a friend of hers suggested she send us her photos. She did.

"I was a little surprised when I found out you wanted me," she said. "I didn't realize there was a market for old ladies."

Damn right there is. Ladies just like Jessie.

LAST HD POSTINGS:
10/25/2018 09:30 PM
Ass-fucked by a big, black cock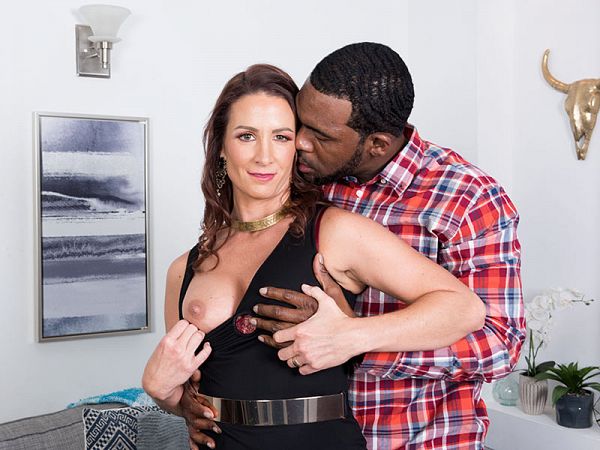 When this scene opens, Rome is walking up to Eliza Kelay's house and wondering why she called him over. He knows her husband isn't home, and when she invites him in, he suspects something is up.

"I feel kind of weird being here," he tells her.

"Let's sit on the couch and talk," she insists.

"Are you sure?" He's nervous. "You have to understand, he's my buddy."

"There's something I wanted to talk to you about," Eliza says. "I really have a thing for you. Black men, especially, but you."

She strokes his arm. He decides to go for it and touches her leg, and away they go! Before long, Rome has forgotten about his buddy because Eliza is sucking his dick. Then he's fucking her ass. He's fucking his best friend's wife with his big, black cock, and cumming all over her asshole, too.

Check out Eliza's big clit. It's a beauty!

Eliza is 40 years old. She's a wife and mom. She describes herself as sexually passive. Not here, she isn't. Not the way she goes after Rome's cock.
LAST HD POSTINGS:
10/24/2018 09:30 PM
The first time we saw her, 40-year-old wife and mom Eliza Kelay said, "This is definitely outside the norm for me. A challenge. I'm pushing the boundaries." She meant getting naked on-camera and fucking for all the world to see.

Well, today, Mrs. Kelay, as her students used to call her, is pushing the boundaries even further. She's sucking and fucking a big, black cock and taking it up her ass. That's right, anal in only her second scene. The dude really pounds her asshole and makes it gape. Then he shoots his load on her butthole, and Eliza lets it drip down to her pussy.

Consider those boundaries pushed, Eliza!

By the way, Eliza also has a very big clit that gets more swollen the more turned-on she gets. And she gets very turned-on in this scene.

We asked Eliza if she's generally into anal, and she said, "It depends on my mood." We guess the mood was right on this day, so right that later on, Eliza got ass-fucked again for the video version of this scene. Can't wait, can you?

And a few more things: notice that Eliza is wearing her wedding band as she's sucking and fucking Rome's cock. He's not her husband.

"I'm in my sexual prime and I want to take advantage of that by having lots of hot sex," Eliza said.

She's doing that.

LAST HD POSTINGS:
10/18/2018 09:30 PM
Mariah James, who is 47 years old, divorced and a mom, told us she once had sex with a much-younger guy.

"He was inexperienced. I had to teach him," she said.

She didn't have to teach JMac, who's younger than her by 14 years but has fucked enough women to know what to do. Mariah thinks she can teach him a thing or two, but from the sounds of Mariah's moans, he definitely knows how to eat her pussy. He also turns her upside-down and fucks her in the piledriver position. Then he cums on her face, so much cum that it drips onto her tits.

Oh, and how can we forget that when Mariah is upside-down and getting drilled piledriver-style, she tugs hard on her nipples. This woman obviously knows what she wants.

"I'm usually the assertive one, but it's nice when the guy takes charge," Mariah said.

Mariah is from New Jersey. She's 5'4" and weighs 128 pounds. She has great tan lines. You're gonna like the way she sucks and fucks. We guarantee it.
LAST HD POSTINGS:
10/17/2018 09:30 PM
In this scene, 47-year-old New Jersey MILF Mariah James fucks JMac's big cock. Somehow, JMac's cock looks even bigger when Mariah is sucking and fucking it than it usually does. Who knows why that is? It just is. She also takes his load all over her face.

Mariah, who's divorced, is a mom-next-door. She's not a swinger or nudist. People would be surprised to see her here. She's not a wild woman, at least compared to many of the other ladies we see here. Her wildest sexual experience?

"Sex in a movie theater." But she says she often initiates sex and is turned-on by the idea of people watching her.

"My fantasy is to have sex with two men," she said. "I'm one step closer to that now."

JMac was nice enough to fuck Mariah from behind. We say nice enough because doggie-style is what gets her off best, and we bet you'd get off, too, with such a nice view of her caramel can and puckered asshole. Mariah's second-favorite sex act is receiving oral.

"If a guy goes down on me, I will be very giving in return. Make me cum with your tongue and I'm all yours."
LAST HD POSTINGS:
10/11/2018 09:30 PM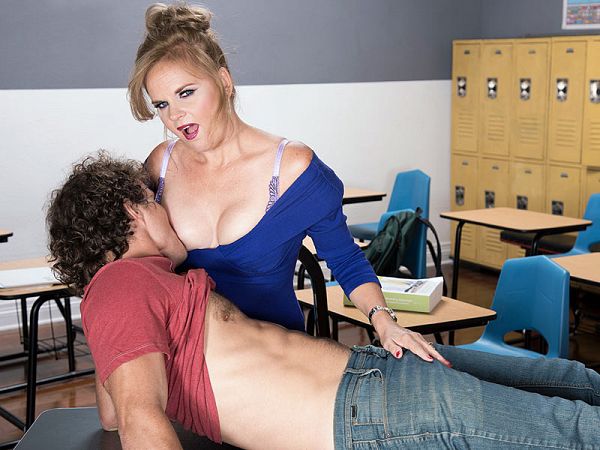 Micky Lynn, 45, has been sitting in her classroom waiting for her student to show up. But he's late, and when he finally does arrive, Micky is not happy with him.

"I'm going to have to teach you a very valuable lesson in how to be on-time and how to do things right," Micky says. "You have to be on time because I have needs."

Turns out he's been having trouble with his girlfriend.

"She doesn't want to have sex," he says.

Micky does. As she said, she has needs.

"So maybe I'm going to have to teach you a few things that your girlfriend can't teach you," she says, then she pulls out his cock and starts sucking it POV-style. A lot of this scene is shot POV, and in the rest, we don't see the guy's face, so it could be you pounding Micky from behind and shooting your load on her tits and pretty face.

Micky, who's a mom, is a former big-time porn star who's back in the game after nearly 20 years away.

"It feels different but the same also," Micky said when we asked her how it feels to be back on-camera. "It feels so good. I'm a little older and a little wiser now, but I've still got it. I'm excited to meet all my new fans that are out there and get to know them, get to comfort them, get to suck on cock and play with myself and all that good stuff."

All that good stuff, eh?

"I like to watch all kinds of porn," Micky said. "I like to watch women going down on women. I like to watch men and women and also men and men. I love it all. Sex is sensual and it makes me feel so good."
LAST HD POSTINGS:
10/10/2018 09:30 PM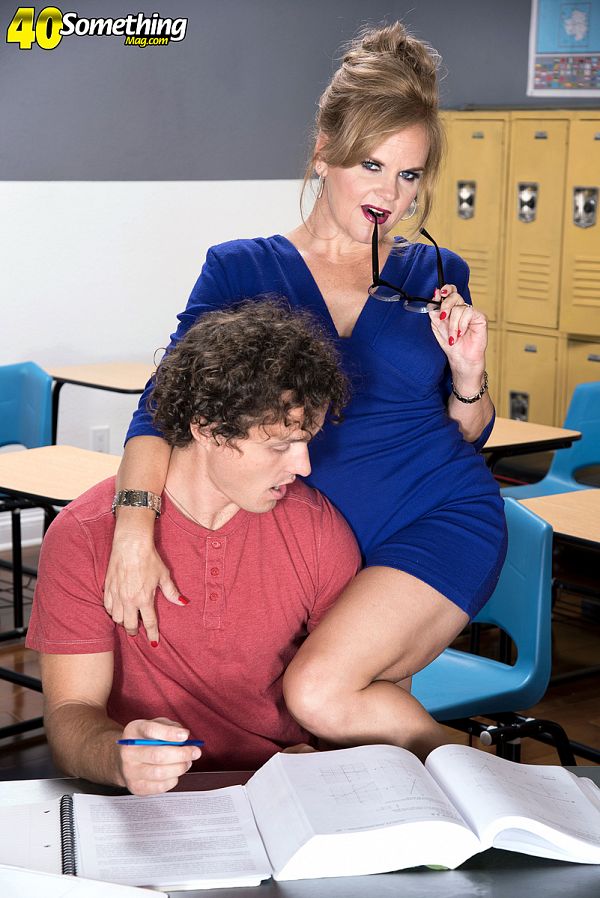 Micky Lynn, a 45-year-old mom and swinger, returns as a teacher who sucks and fucks her student right there in the classroom. Micky shot over 200 porn films in the 1990s and early 2000s before dropping out of sight, and we're glad she picked us for her return.

"I started in the business when I was 18 at the fantasy booths in New York," Micky said. "From there, I went to dancing. From dancing I went to porn. From porn I went to magazines. From magazines I went to feature dancing. And I've actually owned my own adult boutique in West Palm Beach. And then I tried my own Passion Party company. Now I'm back. I'm starting all over again. It's recycling. It's the older and mature Micky Lynn. When I left the business, I was young, skinny. Well, I'm still skinny. But I was naive to the situation. Now I'm more mature and I know what's going on."

She knows what she wants. She's glad to be back.

"I would like to bring back the older '90s type of style where it's more for couples," she said. "Right now, I don't know what's out there so I've got to do my research. Like I said, you guys are my first. But I'd like to bring the old style back where it's not like what's the craziest thing you can do, it's what can I do to pleasure you. I want your wife and you to be able to sit there and enjoy it.

"I was a little slut. I like to be slutty. I like to be naughty. I take things to a certain degree when I'm comfortable, and that's what they need to know. They need to know that sex is not bad, but you have to be careful of what you take and what you accept. You have to respect yourself. When you get older--because we're all getting older--you want to have your body intact. That's what I want to bring to porn."


LAST HD POSTINGS:
10/04/2018 09:30 PM
Andrea's DP fantasy comes true
When we first met 47-year-old divorcee and mom Andrea Grey, we asked her about her sexual fantasies, and she said, "To have two men at once."

Today, Andrea makes her fantasy come true. It's a sunny day in Los Angeles, California and Andrea is sunbathing by her pool, wearing a skimpy bikini that shows off her hot bod and big tits. The two guys who are cleaning her pool can't help but notice as she sprays tanning oil onto her shapely body and rubs it in.

"Freakin' hot," one guy says.

"How old do you think she is?" the other says.

"Old enough"

Andrea calls them over.

"I need help with my oil," she says. "Can you help me with that?"

Sure they can.

They rub the oil onto her chest, then she pulls down her bikini top so they can get it in real good, then she rubs their cocks through their shorts, and before we know it, they're inside and making Andrea's fantasy a reality. They fuck her mouth and shaved pussy. Then they fuck her ass. Then it's time for some double penetration with this hot mom from Cali, Colombia.

Andrea has sex four to six times a week. She loves making men cum. We asked her if she's into anal sex, and she said, "Yes! I love it."

In this scene, she leaves no doubt about that.